STRONG IMMUNITY TO ENABLE LEARNING
SUPPORTING COGNITION
Children's brains develop rapidly in the first few years of life. At Abbott, we know that a full spectrum of nutrients is vital to support this. We have determined that 9 key nutrients, including DHA and AA which are building blocks of the brain and eye, have larger effects on learning and memory.2 We recently found that Lutein, a nutrient known for supporting eye health, may also enhance cognitive skills.3 Other nutrients that support mental and cognitive development include taurine, choline, Vitamin B5, iron, zinc and iodine.
IMPROVING NUTRIENT ABSORPTION
When it comes to nutrition, it is not just what is in formula that matters. It is what is absorbed that counts. At Abbott, we make milk formula without palm oil. Science has shown that such formulas with 'no palm oil' improve absorption of DHA and AA as well as, calcium for strong bones and teeth. It also helps babies pass softer stools.4 , 5
It is well known that Natural Vitamin E is absorbed twice as well as synthetic Vitamin E, so we exclusively use the natural molecule. At Abbott, our scientists also found that Natural Vitamin E, like Lutein and DHA, concentrates in the brain centers for learning and memory. Natural Vitamin E, a strong antioxidant, may protect DHA in the brain, to support visual memory and language development.6
FACILITATING GROWTH
At Abbott, optimal growth in the formative years is fundamental to health for life. So, our formulations are scientifically designed with the optimal range and levels of nutrients that provide the building blocks to fuel growth. These include: high quality blend of proteins for muscle and tissue building; calcium for strong bones and teeth and, Vitamin D to facilitate calcium absorption and improve bone strength.
SIGN UP FOR YOUR
FREE SAMPLE NOW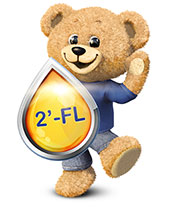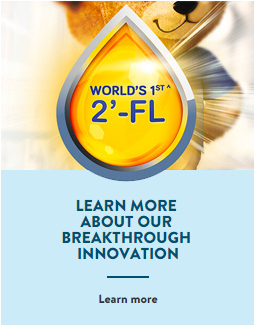 1 G Vighi,F Marcucci, L Sensi, G Di Cara, F Frati. Allergy and the gastrointestinal system. Clin Exp Immunol. 2008 Sep; 153(Suppl 1): 3–6.
2 Georgieff MK, Ramel SE, Cusick SE. Nutritional influences on brain development. Acta Paediatr. 2018 Aug; 107 (8) : 1310-1321.
3 Saint SE, Renzi-Hammond LM, Khan NA, Hillman CH, Frick JE, Hammond BR. The Macular Carotenoids are Associated with Cognitive Function in Preadolescent Children. Nutrients. 2018 Feb 10;10(2).
4 Koo WW, Hockman EM, Dow M. Palm olein in the fat blend of infant formulas: effect on the intestinal absorption of calcium and fat, and bone mineralization. J Am Coll Nutr. 2006 Apr;25(2):117-22.
5 Leite ME, Lasekan J, Baggs G, Ribeiro T, Menezes-Filho J, Pontes M, Druzian J, Barreto DL, de Souza CO, Mattos Â, Costa-Ribeiro H Jr. Calcium and fat metabolic balance, and gastrointestinal tolerance in term infants fed milk-based formulas with and without palm olein and palm kernel oils: a randomized blinded crossover study. BMC Pediatr. 2013 Dec 24;13:215.
6 Kuchan MJ, Jensen SK, Johnson EJ, Lieblein-Boff JC.The naturally occurring α-tocopherol stereoisomer RRR-α-tocopherol is predominant in the human infant brain. Br J Nutr. 2016 Jul;116(1):126-31.

SFG110519