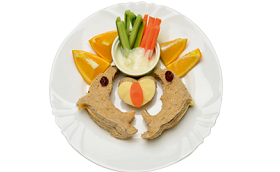 Preparation Time: 20 minutes
Serves: 2
Ingredients
4 slices wholemeal bread
4 tablespoons tuna flakes in olive oil
2 slices low fat cheese, optional
Dash of freshly ground black pepper
½ tablespoon mayonnaise, optional
2 raisins
1 Japanese cucumber, cut into sticks
1 small carrot, cut into sticks
1 cup vanilla yoghurt
1 orange, quartered
Method
Place the DOLPHIN CUTTER on each slice of bread and cheese to cut out dolphin and heart shapes. Set aside.
Mix tuna flakes together with black pepper and ½ tablespoon mayonnaise.
To prepare the dolphin sandwiches, spread the prepared tuna mixture and cheese between 2 slices of dolphin shaped bread. Place one raisin each to form the eye of the dolphin.
To prepare the heart shaped sandwich, spread the prepared tuna mixture in between 2 slices of heart shaped bread. Top with a slice of heart shaped cheese and a carrot stick.
Arrange the dolphin and heart sandwiches on a plate. Serve together with yoghurt, vegetable sticks and orange quarters.