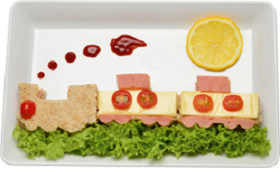 Choo Choo Train Sandwich
Preparation Time: 15 minutes
Serves: 2
Ingredients
4 slices wholemeal bread
2 slices lean smoked ham
2 slices low fat cheese
Garnish
Salad greens
2 cherry tomatoes, sliced
Tomato ketchup, optional
1 orange slice
Method
Place the TRAIN CUTTER on each slice of bread, ham and cheese. Press down and cut out the train shape. Set aside.
Assemble the individual train carriage by placing the cut-out ham and cheese in between 2 slices of bread. Repeat for the next train carriage.
Place the assembled train carriages side-by-side to form a train. Decorate the train with cherry tomatoes to form the train's headlight and wheels. Place on a serving plate.
Use salad greens to form grass underneath train sandwich. Use tomato ketchup to form smoke from the train's chimney/funnel. Place orange slice to form the sun.