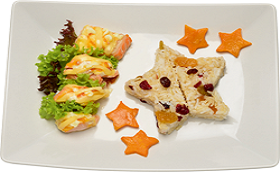 Preparation Time: 30 minutes
Serves: 1
Ingredients
1 cup brown rice
2 tablespoons raisin and cranberry mix
200g salmon fillet, sliced
2 tablespoons Japanese mayonnaise
1 slice low fat cheese, cut into strips
Garnish
Salad greens
4 star shaped pumpkin slices
Method
Cook brown rice in rice cooker according to the instructions on the packet.
Place the salmon on a baking tray lined with baking paper. Top salmon with Japanese mayonnaise and cheese strips. Place pumpkin stars next to salmon.
Bake salmon and pumpkin stars in a preheated 220 degree Celsius oven/oven toaster for 20 minutes or until cooked. Set aside. When cool, place onto a serving plate.
Place the STAR CUTTER in the centre of cling wrap film. Mix raisin and cranberry into the cooked brown rice. Spoon 3 tablespoons of the rice mixture into the cutter. Cover the rice mixture and cutter with cling wrap completely to mould it into a star shape.
Remove the cling wrap from the cutter. Use a spoon to gently push star shaped rice out from the cutter onto a serving plate. Place the sliced salmon on the serving plate next to the star shaped rice. Decorate with salad greens and pumpkin stars.