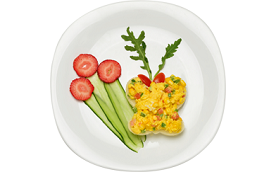 Preparation Time: 15 minutes
Serves: 1
Ingredients
1 teaspoon butter
1 tablespoon fresh corn kernels
1 small tomato, diced
2 eggs, lightly beaten
½ green capsicum, diced (optional)
2 slices wholemeal bread
Garnish
Salad greens
1 cherry tomato, halved
1 strawberry, sliced
3 cucumber strips, pared lengthwise using a potato peeler
Method
Melt butter in a small frying pan. Saute corn kernels and diced tomato for 10 seconds before pouring in beaten egg mixture. Use chopsticks and stir mixture over medium low heat till egg mixture is half cooked (about 30 seconds).
Add green capsicum and continue to cook the egg to your preferred texture. Remove and set aside.
Place the BUTTERFLY CUTTER on each slice of bread to cut out the butterfly shape.
Sandwich the prepared scrambled egg mixture in between 2 slices of butterfly-shaped bread.
Decorate with salad greens to form the butterfly feelers and cherry tomato halves to form the eyes.
To form flowers next to the butterfly, place 3 cucumber strips and top with sliced strawberries.