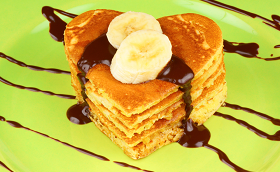 Preparation Time: 20 minutes
Serves: 2
Ingredients
1 cup plain flour
2 tablespoons brown sugar
1.5 teaspoons baking powder
¼ teaspoon salt
150ml milk
2 tablespoons vegetable/corn oil
1 large egg
2 ripe bananas, mashed
Garnish
1 large strawberry, sliced
1 large strawberry, diced
1 serving of butter, thinly sliced into a circle
1 tablespoon honey
Method
Whisk flour, sugar, baking powder and salt together in a small bowl. Set aside.
Whisk milk, oil, and egg together in a medium bowl. Add mashed banana and flour to mixture until just moistened, do not over mix.
Heat a large non-stick frying pan, grease it with some oil using kitchen paper towel that is moistened with oil.
To make one pancake, ladle one scoop of batter (50ml) onto pan. Use the back of the spoon to spread batter into a round shape.
Cook for 1 to 2 minutes until surface of pancakes has some bubbles. Flip over carefully with a thin spatula, and cook until both sides are browned. Remove from pan and set aside. Continue making pancakes with the remaining batter.
When pancakes are cool, use the HEART SHAPE CUTTER to cut out heart shapes from the pancakes. Decorate the pancakes with sliced strawberries and butter to form a face. Garnish the sides of the pancakes with diced strawberries. Drizzle honey across the pancake.