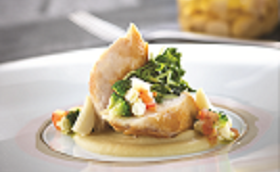 Serves 2
Ingredients
2 Fresh chicken breasts
20g Broccoli
20g Cauliflower
30g Tomato
60g Pea sprouts
110ml ProSure (liquid, vanilla flavor)
10g Garlic
1tsp Olive oil
4g Sea salt
1/2tsp Pepper crush
100g Potato
Preparation
Cut broccoli and cauliflower into small florets.
Remove seeds from tomatoes and dice them.
Cut garlic into quarters. Poach them in ProSure for 15 minutes till soft. Set aside the garlic and keep the milk. Peel and dice potatoes.
Method
Season chicken breast with a little sea salt and pepper, and pan-fry over medium heat with a little olive oil. Set aside.
Blanch broccoli and cauliflower florets in boiling water and cool in ice water. Combine with 5ml of olive oil and diced tomatoes to form the salsa.
Sauté pea sprouts with a little olive oil, salt and pepper.
Boil potatoes and mash. Add ProSure to the mixture.
To assemble, place ProSure potato mash on the center of the plate.
Arrange chicken breast on the mash and garnish with pea sprouts, garlic and the prepared salsa.
Tips
ProSure with mashed potatoes can be served with roast meat and vegetables as well.
Cancer Cancel: Live Right. Eat Well. Cancer Facts & Great Recipes for Cancer Patients
Authors: Dr. Wong Seng Weng & Celebrity Chef Eric Teo
Publisher: Seashore