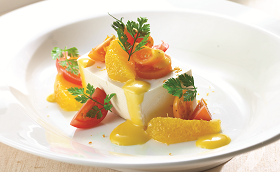 Serves 2
Ingredients A
200g Silken tofu (Pasteurized tofu sealed in box, from supermarkets*)
80g Vine tomato
*Alternative method of preparation, steam tofu for 10 minutes, leave it to cool and add the dressing.
Ingredients B (Orange Honey Dressing)
50g ProSure (powder, orange flavour)
100g Tofu
50g Fresh orange juice
5g Orange zest
15g Manuka honey
Method
To prepare Orange Honey Dressing, place all ingredients B in a large mixing bowl and blend well. Keep chilled till ready to use.
Cut tofu into half, lengthwise.
Cut vine tomato into wedges. Place tofu and tomatoes on a deep dish plate.
Drizzle Dressing and serve.
Tips
This sauce is versatile, drizzle over roasted meat or steamed fish.
Set in small pudding dishes for a light snack.
Cancer Cancel: Live Right. Eat Well. Cancer Facts & Great Recipes for Cancer Patients
Authors: Dr. Wong Seng Weng & Celebrity Chef Eric Teo
Publisher: Seashore