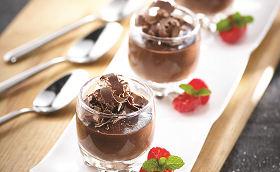 Serves 4
Ingredients
100g Bitter sweet chocolate
30g Sugar
50g Fresh cream
150ml ProSure (liquid, vanilla flavor)
100ml Whipping fresh cream
Garnish (Optional)
Some Fresh mint leaves
Some Fresh raspberries
Some Chocolate shavings
Preparation
Chop chocolate.
Chill whipping fresh cream.
Rinse mint leaves and raspberries with filtered water, drain and set aside.
Method
Whisk whipping fresh cream to soft peak and keep aside.
Meanwhile boil fresh cream and sugar. Stir it into the chopped chocolate slowly to form a liquid paste.
Fold in whipped cream, followed by ProSure. Transfer into decorative glasses. Set in the chiller overnight.
Decorate with chocolate shavings, raspberries and mint leaves before serving.
Tips
You can replace chocolate with flavors you prefer such as coffee or green tea.
Cancer Cancel: Live Right. Eat Well. Cancer Facts & Great Recipes for Cancer Patients
Authors: Dr. Wong Seng Weng & Celebrity Chef Eric Teo
Publisher: Seashore