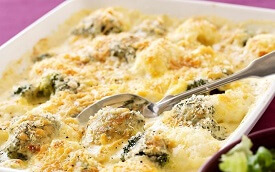 Total Time: 35 minutes
Makes: 4 servings
Ingredients:
4 tbsp. PediaSure Powder (vanilla flavor)
2 cups homemade chicken stock
200g cauliflower florets
150g broccoli florets
3 tbsp. corn flour
100g cheddar cheese shredded
¼ breadcrumbs
Pinch of salt and pepper
Directions:
Bring stock to boil in a pot and blanch broccoli and cauliflower florets until three-quarters done.
Remove and place florets in an ovenproof dish.
Reserve stock.
Preheat oven to 250°C.
Mix together reserved stock, PediaSure and corn flour in a heavy-based pan. Heat gently, and keep stirring. Season with salt and pepper.
When sauce is thick, stir in cheese, and then pour over florets.
Sprinkle breadcrumbs over, then place in the oven and bake for 10-12 minutes, or until top is golden brown.
Remove from oven and serve immediately with bread or baked potatoes.