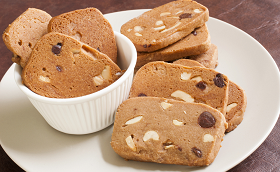 Tempt your little picky eater with yummy & crunchy almond cookies.
Ingredients:
8 scoops of PediaSure powder
125g butter
150g brown sugar
100ml water
1 pinch ammonium bicarbonate
320g self-rising flour
2 tablespoons cinnamon powder
200g almond slivers
Method:
Beat butter and sugar until creamy.
Separately, dissolve ammonium bicarbonate in water and slowly stir in PediaSure powder.
Add the PediaSure mixture to the butter mixture from the first step.
Add in flour, cinnamon and almond slivers and mix to form a dough.
Line a 9" square tray with plastic wrap and place dough in the tray. Compact until the dough is level and cover the top of the tray with plastic wrap.
Place the tray in the freezer for 6 hours to harden.
Remove the dough from the freezer and cut into thin slices.
Place cookie slices on a lined baking tray and bake at 180°C for 15 minutes or until golden brown.
These cookies may also be stored in air tight containers when cooled.
Contributed by PediaMum, Kris Leong, Mother of Daphne