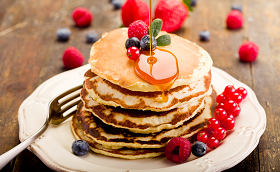 Total Time: 15 minutes
Makes: 6 servings (2 waffles per serving)
8 servings (2 pancakes per serving)
Ingredients:
8 scoops of PediaSure Powder
300ml cold water
2 cups all purpose flour
2½ teaspoons baking powder
½ teaspoon salt
100g butter
2 large eggs
Directions:
In a mixing bowl, stir together the flour, baking powder, salt and PediaSure powder.
Make a well in the centre and pour in the water, eggs, and melted butter and mix until smooth to form the batter
Pour about ¼ cup of batter onto a hot, lightly greased frying pan.
Flip to cook the second side when pancake has a bubbly surface and slightly dry edges.
Cook until pancakes are golden brown.