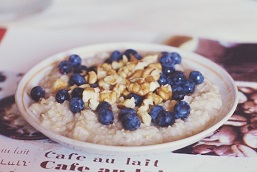 Total Time: overnight
Makes: 2 servings
Ingredients:
1 bottle Pediasure Liquid (vanilla flavor)
¾ cup large flaked oats
¼ cup mixed nuts(crushed almonds & walnuts)
2 tbsp. dried cranberries or blueberries
2 tbsp. raisins
1 tbsp. honey
Directions:
Place oats, nuts and dried fruits in a sealable container.
Pour Pediasure over mixture and stir with spoon.
Cover and refrigerate overnight. The mixture will soak up Pediasure.
The next morning, drizzle with honey and serve cold.