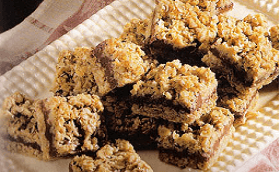 Total Time: 1hr 20 minutes
Makes: 10 bars
Ingredients:
1/3 cup Pediasure Powder (vanilla/chocolate)
3 tbsp. reduced fat peanut butter
2 tbsp. unsalted butter
12 large marshmallows
1 cup cornflakes, crushed
1/3 cup crispy rice cereal
¼ cup quick-cooking instant oats
Toppings:
1/3 cup semi-sweet chocolate chips
2 tbsp. reduced fat peanut butter
Directions:
Line an 8 x 4 inch loaf pan with foil, allowing foil to overlap edges of pan. Lightly oil bottom surface of foil.
Combine peanut butter, butter and marshmallows in a microwavable bowl. Microwave on high for about 20 seconds. Mix until all is melted and well-mixed.
In a large bowl, mix Pediasure, corn flake crumbs, rice cereal and oats.
Add peanut butter mixture and stir to combine. Lightly oil clean hands and press mixture into pan in an even layer.
Combine chocolate chips and peanut butter in a microwavable bowl. Microwave for about 15 seconds and mix until smooth.
Spread chocolate mixture over base and refrigerate for 1 hour.
Remove bars from pan by lifting up the edges of foil. Place on a cutting board and cut into 10 pieces.
Store bars in the refrigerator in an airtight container. Allow bars to cool to room temperature before eating.