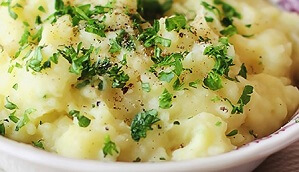 Makes: 2 Servings
Total Time: 15 minutes
Ingredients:
1 bottle PediaSure Liquid (vanilla flavor)
2 medium potatoes, cooked
1 green onion or scallion, finely chopped
¼ salt
Directions:
Mashed potatoes and add PediaSure gradually.
Mix in the green onion or scallion and salt.
Serve as a side dish or as part of your favourite recipes.
Tips: Get creative! Use these awesome mashed potatoes to make "Sherperd's Pie Sundae": top cooked ground meat with some corn kernels, 2 scoops of mashed potatoes and a drizzle of gravy or ketchup!