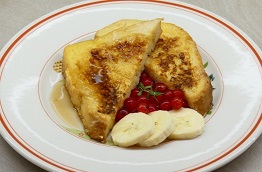 Total Time: 10 minutes
Makes: 4 servings
Ingredients:
1 bottle/1 cup PediaSure (vanilla flavor)
2 eggs
1/2 tsp. cinnamon
4 slices whole grain bread
1 Tbsp. butter
Directions:
In a medium bowl, mix together PediaSure, eggs, and cinnamon.
Soak each slice of bread in the mixture until saturated.
In a large frying pan, melt the butter over low-to-medium heat.
Place the bread in the pan and cook for approximately 5 minutes on each side or until golden brown. Serve warm.