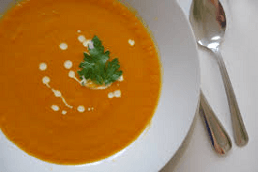 Total Time: 15 minutes
Makes: 4 servings
Ingredients:
1 bottle PediaSure Liquid (vanilla flavor)
500g pumpkin chunks
1 tbsp. olive oil
1 medium onion, peeled and finely minced
2 cloves garlic, peeled and finely minced
3 cups homemade chicken stock
Pinch of salt and white pepper
Some parsley
Directions:
Steam pumpkin chunks until soft and then mash until smooth.
In a pot, heat oil and stir fry onion and garlic until fragrant.
Add chicken and mashed pumpkin. Stir well and bring to boil.
Ladle into bowls and garnish with PediaSure
Add parsley, if desired. Serve hot.
Tips: Cut a slice of wholemeal bread into cubes. Toast them to make crispy croutons.