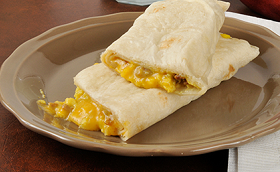 Total Time: 10 minutes
Makes: 2 servings
Ingredients:
1 bottle / 1 cup PediaSure (vanilla flavor)
4 eggs
1 tsp. butter or vegetable oil
1/4 cup salsa
1/2 cup cheddar cheese, grated
2 medium whole wheat tortillas
Directions:
In a large bowl, whisk together PediaSure and eggs.
In a large saucepan, heat butter over medium heat and add the egg mixture.
Continue to heat, stirring occasionally, until the desired texture is reached.
Divide cooked eggs onto tortillas, top with cheese and salsa. Roll them up and enjoy.
Tips: These can be made ahead of time, refrigerated and warmed in the microwave just before serving.