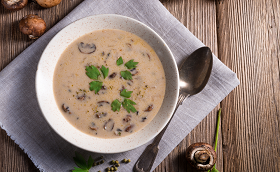 Ingredients
1 pack (220ml) vanilla Nepro HP
1½ cups homemade chicken stock
300g fresh mushrooms
1 tablespoon butter
Salt and black pepper to taste
Method
Bring stock to boil in a pot. Add mushrooms and butter. Cook for about 10 minutes then removes a few mushrooms for garnish.
Use a hand-held blender and blend all ingredients in the pot until smooth. Add vanilla Nepro HP and stir well.
Portion into bowls, garnish with mushrooms and serve immediately.
(4 servings)
Approximate Nutritional Value Per Serving
175 kcal
9g Protein
14g Carbohydrate
10g Fat
194mg Sodium
392mg Potassium
63mg Calcium
128mg Phosphorus