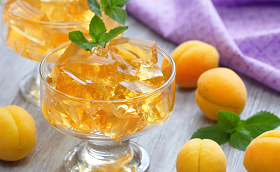 Ingredients
2 packs (440ml) vanilla Nepro HP
10g konnyaku jelly powder
1.9 cups water (475ml)
250g sugar
3 halves (180g) peaches (canned, drained, chopped small)
Method
Combine konnyaku powder with sugar in a bowl. Combine water and vanilla Nepro HP in a saucepan and bring to a gentle boil.
Lower heat, add konnyaku and sugar mixture slowly into the saucepan containing water and vanilla Nepro HP, and stir well all the time.
Bring to boil, stirring to dissolve konnyaku jelly mixture. Continue to warm for 8 more minutes. Remove from fire. Transfer to a pouring jug.
Prepare jelly moulds. Place equal prtions of fruit into the moulds. Pour over the prepared konnyaku jelly mixture. Set aside to cool and set for about 30 minutes. Chill in the refrigerator.
Remove jellies from moulds and serve cold.
(Makes about 36 medium jelly pieces)
Approximate Nutritional Value Per Serving
51 kcal
1g Protein
9g Carbohydrate
1g Fat
9mg Sodium
19mg Potassium
14mg Calcium
10mg Phosphorus