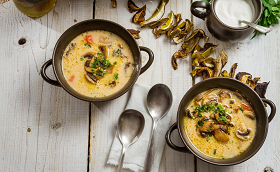 Makes:
4 bowls
Preparation Time:
10 minutes
Baking Time:
10 minutes
Ingredients
4 scoops Isomil
1 cup hot water
1 ½ cups chicken stock (375 ml / 12 floz)
200g button mushrooms
100g shiitake mushrooms
80g oyster mushrooms
1 tablespoon margarine (diary-free)
Salt, a pinch if necessary
Method
Mix together Isomil and hot water.
Boil the chicken stock in a pot.
Slice the mushrooms into smaller pieces.
Add in the mushrooms and margarine in the stock. Allow it to simmer for about 10 minutes.
Gradually add in the prepared Isomil in the boiling stock, stirring all the time.
Take the soup off the fire and cool it.
Using a blender, blend the soup till smooth.
Warm it up again and ladle into serving bowls. Garnish if desired.
Serve soup immediately.