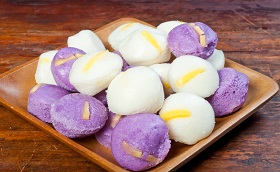 Makes:
12 rice cakes
Preparation Time:
75 minutes
Steaming Time:
30 – 45 minutes
Ingredients
1 cup plain rice flour
¼ cup Isomil
2 tablespoon sugar
½ teaspoon dry yeast
½ teaspoon soda bicarbonate
125ml water
28g raisins
Food coloring as desired
Food flavoring as desired
Method
Mix together the rice flour with Isomil, sugar, yeast and soda bicarbonate.
Add water and mix well to form a batter.
Leave mixture to rise for 1 hour.
Add in the raisins.
Set a steamer to boil.
Pour the mixture into 12 mini paper cups.
Steam for 30 to 45 minutes until a skewer inserted into the rice cakes comes out clean.
Remove the rice cakes from the steamer and allow them to cool before serving.