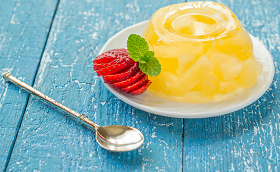 Makes:
6 jelly cups
Preparation Time:
15 minutes
Setting and Chilling Time:
3 hours
Ingredients
4 teaspoons gelatin
½ cup hot water
6 scoops Isomil
1-2 (500g); after skinning and deseeding, (400g) mango
125ml water
2 tablespoons sugar
2 tablespoons lemon juice
Method
Mix together gelatin and hot water.
Stir well until dissolved.
Using a food processor, blend together the prepared gelatin, Isomil, mango slices, water, sugar and lemon juice.
Pour the blend into a jelly bowl and allow it to set in the refrigerator.
Serve with fresh fruit if desired.