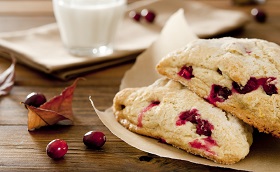 Makes:
12 medium or 20 mini-sized scones
Preparation Time:
20 minutes
Steaming Time:
15 – 20 minutes
Ingredients
2 cups self-rising flour
1 teaspoon mixed spice
2 tablespoons sugar
90g margarine (dairy-free)
3 scoops Isomil
50ml water
2 tablespoons honey
2 tablespoons dried cranberries
Method
Preheat the oven to 200° C.
Line and lightly grease a baking tray.
Sieve together the flour and spice.
Mix in the sugar.
Rub in the margarine until it resembles bread crumbs.
Mix together Isomil with water.
Add in honey and the prepared Isomil and mix to form a soft dough.
Add in cranberries.
Turn out the dough onto a lightly floured board. Knead dough until smooth.
Lightly roll out the dough to about a thickness of 2cm.
Cut out 12 scones.
Place them on the lightly greased baking tray.
Bake the scones on a low rack for 15 to 20 minutes until they turn golden brown.