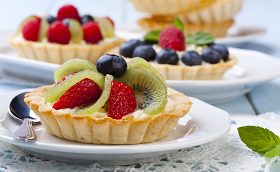 Makes:
30 tartlets
Preparation Time:
15 minutes
Baking Time:
5 minutes
Ingredients
6 scoops Isomil
240ml water
1 ½ tablespoons cornflour
2 tablespoons sugar
1 drop edible yellow food coloring
½ teaspoon vanilla essence
15 mini tartlet cases
Fresh fruit slices as desired, for garnishing
Method
In a heavy-bottomed pan, mix together Isomil, water, cornflour, sugar, food coloring and vanilla essence.
Gently warm the mixture, stirring all the time over a low heat, until the custard thickens.
Spoon the custard into the mini tartlets.
Serve; topped with slices of fresh fruit.
Note: The mini tartlets can be bought from baking essential stores such as Phoon Huat or Red Man.