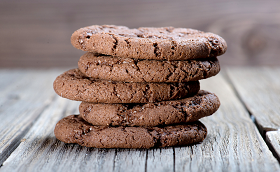 Makes:
12 cookies
Preparation Time:
12 minutes
Baking Time:
15 minutes per baking tray
Ingredients
2 scoops Isomil
¾ cup icing sugar
2 tablespoons cocoa powder
5 tablespoons self-rising flour
2 egg white
60g almonds, chopped
Method
Preheat the oven to 200° C.
Line and lightly grease baking trays.
Sift together the Isomil, icing sugar, cocoa powder and self-rising flour.
Whip the egg whites in a bowl with a hand-held blender or an electric mixer on medium speed until stiff, then fold in the mixture until it is well mixed.
Fold in the chopped almonds.
Place about 20 rounded tablespoonful of cookie dough onto the lightly greased baking sheet, 5 cm apart from each other.
Bake each tray of cookies for about 15 minutes or until cookies are lightly brown and firm.
Remove cookies from the tray and cool on a cookie rack or paper towels.
When cooled, store cookies in an airtight container.
Note: Recipe contains egg.