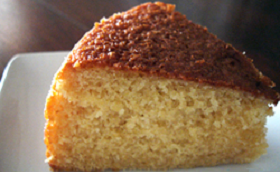 Try out our delicious Easy Cake with Soy Milk recipe, suitable for children sensitive to cow's milk, made from Isomil follow-on powder!
(Makes 16 slices)
Ingredients
½ cup butter*
1½ cup sugar
2 eggs
2 cups plain cake flour
2 tsp baking powder
¼ tsp salt
1 cup soy milk**
1 tsp vanilla essence
Method
Sift flour with baking powder and salt.
Cream butter and sugar together until light.
Add eggs one by one and beat well.
Add flour, a spoon at a time, to the creamed butter and sugar mixture and fold gently.
Add milk and essence; continue to fold until well mixed.
Pour into a prepared baking tin and bake in a pre-heated oven at 350°F for 25 – 30 minutes or until a skewer inserted to the centre of the cake comes out clean.
* Note: For children allergic to cow's milk protein replace butter with margarine
**Use reconstituted Isomil follow-on