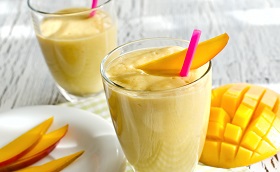 Whip up this fruity, nutrient-packed, and delicious beverage to accompany any nourishing breakfast choice.
Ingredients
170ml boiled, cooled water
3 scoops of GROW SCHOOL powder
½ ripe mango (100g), peeled and cubed
2 ice cubes
2 easy steps
Add all ingredients into a blender and blend until smooth.
Pour into glasses and serve immediately
Optional:
Replace mango with any soft fruit like papaya, banana, or strawberries. Your kid will love the variations!