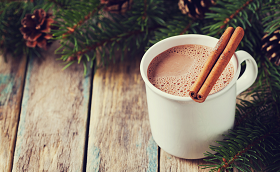 Ingredients
5 scoops (52g) Glucerna powder
2 rounded tablespoon (10g) cocoa powder
200mL water (room temperature) or milk (skimmed or low-fat)
1 tablet Artificial sweetener
Method
Place Glucerna powder, cocoa powder, and artificial sweetener in a cup.
Slowly add water or milk to cup containing Glucerna and cocoa powder, stirring thoroughly with each addition.
Microwave for 15 to 20 seconds on HIGH for a hot steaming drink.
Nutritional Information:
Using water, each serving provides 234 kcals, 25 gm carbohydrate, 9 gm fat, 13 gm protein, 2.8 gm fibre.
Using milk, each serving provides 342 kcals, 47 gm carbohydrate, 11 gm fat, 21 gm protein, 2.8 gm fibre.