GLUCERNA
Glucerna® Pineapple & Green Apple Lassi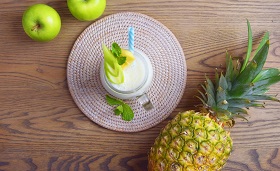 Ingredients
150g fresh pineapple
1 whole green apples
5 level scoops of Glucerna® Triple Care Powder
200g of low fat plain yoghurt with no added sugar
150g ice
Method
Extract juice from pineapple and green apples.
Add Glucerna® Triple Care Powder to juice and mix well
Transfer Glucerna® with juice mixture to a blender, add yoghurt and ice in the blender and blend well.
Nutrition Information Per Serve
Energy
(Kcal)
Carbohydrate (g)
Protein
(g)
Fat (g)
Fibre (g)
475
71.3
20.5
10.8
9.8
Adjust serving to calorie & carbohydrate allowance. Consult your healthcare professional.