GLUCERNA
Glucerna® Papaya Overnight Oats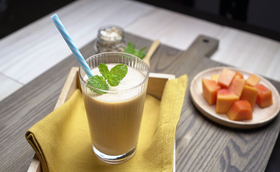 Ingredients
35g rolled oats
100ml water
5 level scoops of Glucerna® Triple Care Powder
200g papaya
50g ice
Method
Dissolve Glucerna® Triple Care Powder in 100ml of water.
Soak rolled oats in Glucerna® mixture and refrigerate overnight
Blend papaya and ice until smooth.
Add blended papaya to Glucerna® oat mixture and mix well. Serve cold.
Nutrition Information Per Serve
Energy
(Kcal)
Carbohydrate (g)
Protein
(g)
Fat (g)
Fibre (g)
422
65.9
15.1
9.9
9.6
Adjust serving to calorie & carbohydrate allowance. Consult your healthcare professional.