GLUCERNA
Glucerna® Pandan Red Beans Drink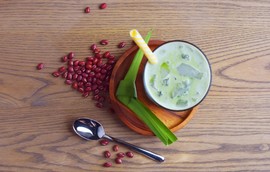 Ingredients
30g raw kidney beans or red beans
4g pandan leaves
25ml water
5 level scoops of Glucerna® Triple Care Powder
200ml water
100g crushed ice
Method
Soak kidney beans or red beans ("beans") overnight or at least 8 hours.
Place soaked beans in a pot with enough water to cover the beans. Cook over medium-high heat for at least 30 minutes then turn the heat down to low and simmer for another 30 minutes. Top up the water in the pot as and when necessary. Once fully cooked, set the beans aside to cool.
Cut pandan leaves into small pieces and blend with 25ml of water until the leaves are completely pulverised. Use a strainer or a cheese cloth to squeeze out 20ml of pandan extract.
Dissolve Glucerna® Triple Care Powder in 200ml water.
Add cooked beans and crushed ice in a serving cup, followed by Glucerna®. Top it off with pandan extract before serving.
Nutrition Information Per Serve
Energy
(Kcal)
Carbohydrate (g)
Protein
(g)
Fat (g)
Fibre (g)
326
45.5
16.9
8.6
7.8
Adjust serving to calorie & carbohydrate allowance. Consult your healthcare professional.