GLUCERNA
Glucerna® Dragonfruit and Berries Smoothie Bowl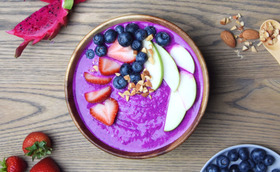 Ingredients
For smoothie:
300g dragonfruit (red-fleshed)
50g strawberries
50g blueberries
5 level scoops of Glucerna® Triple Care Powder
100ml water
For garnishing:
50g strawberries
40g green apple
30g blueberries
15g crushed roasted almonds
Method
Freeze all fruits for smoothie overnight. Cut dragonfruit into smaller pieces before freezing.
Dissolve Glucerna® Triple Care Powder in 100ml water in a cup.
Blend frozen fruits and Glucerna® until smooth.
Transfer smoothie to a serving bowl and garnish with suggested toppings or with fruits and nuts of your own choice.
Nutrition Information Per Serve*
*Excludes nutrition content of garnish
Energy
(Kcal)
Carbohydrate (g)
Protein
(g)
Fat (g)
Fibre (g)
403
65
15.1
8.6
13.7
Adjust serving to calorie & carbohydrate allowance. Consult your healthcare professional.