GLUCERNA
Glucerna® Black Sesame Pudding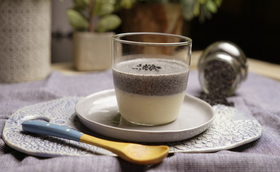 Ingredients
20g black sesame seeds
5 level scoops of Glucerna® Triple Care Powder
200ml water
1.5 teaspoons of gelatin powder
20ml of water
Method
Wash black sesame seeds first then dry-roast them in a pan until dry. Once the seeds start to pop in the pan, set aside to cool.
Gently sprinkle gelatin powder over 20ml of water and wait for it to bloom.
Dissolve Glucerna® Triple Care Powder in 200ml water.
Once the gelatin powder has absorbed the water, mix well with Glucerna® mixture.
Pour 140ml of the Glucerna® mixture into a serving cup and freeze for at least 30 minutes.
Blend the remaining Glucerna® mixture and black sesame seeds until smooth. Then pour into the same serving cup and refrigerate at least 4 hours or until set.
Nutrition Information Per Serve
Energy
(Kcal)
Carbohydrate (g)
Protein
(g)
Fat (g)
Fibre (g)
331
29.1
14.0
17.5
6.0
Adjust serving to calorie & carbohydrate allowance. Consult your healthcare professional.