GLUCERNA
The Glucerna range of products is designed for people with diabetes. Scientifically formulated to be low Glycemic Index (GI) to help with diabetes management.
Good blood sugar control is fundamental to the management of diabetes.
Take charge and manage diabetes. Good blood glucose control helps to provide steady energy to support your daily activities and can help delay the onset of complications. Complications due to poorly controlled blood sugar includes :
Simple choices can make a big difference!
While keeping blood sugar on track can be a challenge, it is the result of the many choices you make, meal by meal, day by day. While you do not need a "special" diet – the diet for people with diabetes is simply a healthy eating plan, one can face frustrations and uncertainty when trying to make food choices. Here are some helpful tips:
Consult a dietitian for nutritional advice and obtain a diet plan that is tailored for you.
*Abbott's calculation based in part on data reported by Nielsen MarketTrack for Diabetic Supplement category, 12-month period ending December 2017, Singapore Total Scan Channels (Copyright © 2018, The Nielsen Company).
1)Epidemiology and Disease Control Division. Ministry Of Health. National Health Survey 2010.
products in this range
products in this range
CHECK OUT OUR
GLUCERNA RANGE
Diabetic Nutrition.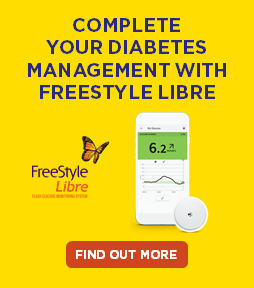 Family Campaign