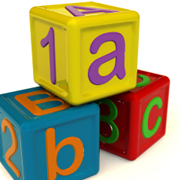 Increasing vocabulary age 3 to 5
Between ages 3 to 5 a preschooler can go from knowing 900 words to 2,500 to 3,000 words.
Here are some ways to help build your child's vocabulary:
Instead of baby talk, try more grown-up explanations
Try having conversations and give your child time to express himself
Make time to play imaginative games with your child to stimulate his mind
Most kids are ready to read by age 6
Reading with your child can speed their learning. By reading together, your child learns:
Specific words make specific sounds
Words are made of letters
The words on the page are related to the pictures
Facts about their favorite things
Like any skill, reading is something children learn at their own pace. Making reading fun and stress-free will help your child develop a love of books.