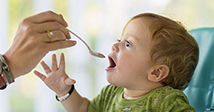 Set the stage for a lifetime of good nutrition by making your baby's transition to solid foods a smooth and healthy one.
You've got a spoon in one hand and a camera in the other: You're ready to feed your baby their first real food! It's an exciting time, but it can also be a bit nerve-wracking for parents. Will your baby open up for the airplane? Is now the right time to try solid food? Is it safe?
Take a deep breath. You've got this. Here are top five tips for how to introduce solids and set your baby on the right track for a lifetime of good nutrition.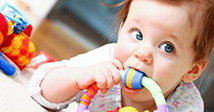 New foods, new teeth, new experiences.
Bring out those teething rings!
Your 7-month-old will likely start moving more independently this month, and might begin exploring his surroundings in new ways.
In addition, his first tooth could be arriving soon. You'll need to help him cope with the pain of teething while you continue to foster his development. Here are some signs to watch for:
After welcoming your new bundle of joy to the world, you are probably eager to reclaim your pre-pregnancy weight and figure as soon as possible. However, it is crucial that post-partum weight loss is carried out gradually and safely to ensure that your body is able to fully recover after pregnancy. READ MORE for some ways to help you get back into shape.