As far as motherhood goes, we know that you're on a mission to be a savvier and smarter mum – every tip or trick you know is another step towards that goal. Now, there's GROW to help you along the way!
new grow range – all-rounded nutrition for babies and toddlers
When it comes to children's nutrition, savvy mums trust in GROW! Formulated for their early years, it's all-rounded nutrition that supports overall growth and development. It's the savvier way to help them grow!
Packed with ingredients to provide all-rounded nutrition for growth, brain development and immunity

Protein provides essential amino acids needed in the building of body tissues
DHA is an important building block for the development of brain and eyes
Antioxidant system with zinc, vitamins C and E to help protect cells from free radicals

Contains no palm oil
Proudly made in Singapore by Abbott –the leader in paediatric nutrition that you can trust
High quality all-rounded nutrition at an accessible price point of just $31.80

Supports your child's overall growth and development
Budget

Grow
Premium

Growth
✔
Calcium, Vitamin D and protein
✔
Brain Development
✔
Recommended levels of DHA, Choline, Taurine
✔
Immunity
✔
Iron + Antioxidant system of zinc, Vitamin C and E
✔
High standards of science-based formulation you can trust
Budget

Grow
Premium

High quality and safe ingredients sourced globally from the best
✘
non-GMO, ingredients sourced from Europe & Australia
✔
Made by trusted global paediatric nutrition experts
✘
125 year heritage and #1 Paediatirc nutrition manufacturer in Singapore and the U.S
✘
All-rounded nutrition that you can give your child in the long run
Budget

Grow
Premium

Accessible price point^
Range starts from $27.50
Range
starts from
$31.80
Range starts from $50.70
Available at every stage of your child's growing years
Available from Stage 2 - Stage 4
Available
from
Stage 2 - Stage 5
Available from Stage 2 - Stage 5
^ Based on prices across Stage 2 milk formula brands in Singapore
FREE 900G
FULL-SIZED
SAMPLE
Sign up now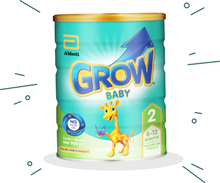 Family Campaign