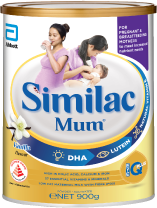 The most complete1*
maternal milk with essential vitamins, minerals, and prebiotic.

Get a Free Sample
Join Our Community
References:
1 Huynh DTT, Tran NT, Nguyen LT, Berde Y, Low YL. Impact of maternal nutritional supplementation in conjunction with a breastfeeding support program on breastfeeding performance, birth, and growth outcomes in a Vietnamese population. J Matern Fetal Neonatal Med. 2018;31(12):1586-1594.
* Comparison among all maternal milk in Singapore as of September 2020, as declared on the label. Most complete in terms of the total number of vitamins and minerals.