Getting a grip on new skills.
Shake, rattle, and roll! Your baby might be developing the ability to grab anything within reach. So be mindful to keep harmful objects out of sight. He might be able to say "mama" too. But it's completely normal for babies to go months longer before they start saying recognizable words.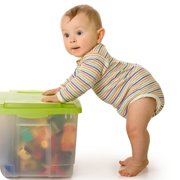 Shake, Bang, Drop, and Throw
Last month's crawling and other fun tricks were impressive. Month nine has even more changes in store. Find out what to expect this month, as we discuss:
Helping your 9-month-old develop a strong mind and body
Baby security blankets and teddy bears
Baby separation anxiety
Flat feet
How to say "no" to your baby
By the end of this month, you should see tricks including a fun little routine with objects called "shake, bang, drop, and throw," and the lobster claw "pincer grasp."

Introducing your baby to the wonderful world of food.
Be sure to introduce new foods to your baby gradually and one at a time. This helps determine whether he is allergic. If you notice any unusual reactions during or after feeding your baby a new food, discuss them with your healthcare professional.

Standing tall, your baby is about to stand.
All babies develop at different rates. You should not be concerned if your baby does something later or earlier than your friend's children. In general, by the end of your baby's ninth month, he will likely be able to do the following:
Pull himself to a standing position
Walk while holding on to furniture
Grab objects with his thumb and index finger
Wave "bye-bye"
Understand "no"

Cognitive activities to exercise your baby's brain.
Your baby has learned so much during the past eight months. Here are some simple ways to continue his brain development:
Read him books while naming and pointing to objects and people.
Teach him hand-eye coordination games such as "patty-cake" and "peekaboo."

From peek-a-boo to pat-a-cake – play creates strong minds and bodies
While you've been guiding your baby along his road to development, the types of skills your baby develops, and the rate at which he develops them at this point, will be largely dependent on his own abilities.
Here are some things you can do to inspire and stimulate him:

Turning to Teddy Bear – the importance of comforting objects
Stuffed animals, toys, or blankets can be a big part of your baby's emotional support system.
In your baby's psyche,  these objects have the power to:

Separation anxiety – waking for reassurance
Just when you thought your baby was sleeping through the night for good, he's up again. Now, he's struggling with separation anxiety. He wakes up looking for you and for reassurance.

For a restful night sleep, try the following:

How saying "no" today will help you tomorrow
Your baby has a great need to explore - that means touching, tasting, and throwing everything in sight.

While these types of behaviors can be entertaining at times, discipline for negative behaviors will teach your baby self-control that will last well into her later years.