Bring out those teething rings!
Your 7-month-old will likely start moving more independently this month, and might begin exploring his surroundings in new ways.
In addition, his first tooth could be arriving soon. You'll need to help him cope with the pain of teething while you continue to foster his development. Here are some signs to watch for: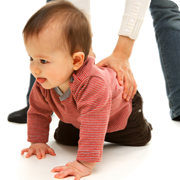 Starting Solid Foods
During month seven, your baby starts moving more independently, scooting around on his belly like a tadpole, and even, perhaps, eating his first cracker. This month, find out how to:
Help your 7-month-old develop a strong mind and body
Combine eating and playing
Doctor's visits
Teething
At the end of month seven, you're baby will probably be getting his first tooth, and hitting other key milestones.

Sounds like fun – healthy play for minds and bodies
Your baby's language, recognition, and social skills are at an important stage of development.
Help ensure that his development stays on track by continuing to engage him in some of the following activities:

Getting her hands on "grown up" food
Once your baby can sit on her own in a high chair, mealtime becomes a party. She wants to grab the spoon, put it in her mouth, and bang it on the tray, creating her own special baby song.
Eating comes with other surprises as well.

Kids and germs – the more they play the more they share
As your baby plays more with other babies and children, he's more likely to pick up colds and viruses.
Symptoms worthy of a visit to your pediatrician:

Sleep patterns and tips at 7 months
Separation anxiety your baby might have developed last month could keep him up at night.
Your baby might stay awake later, or wake up more often, to practice his newest crawling and sitting abilities.
If your baby begins waking up in the middle of the night, try putting him to sleep earlier.

It's time for a serious baby-proofing.
With her added dexterity, increasing mobility, and expanding curiosity, she'll soon be reaching and grabbing for everything. Keeping her safe (and your stuff protected) is a constant vigil.