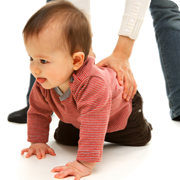 Starting Solid Foods
During month seven, your baby starts moving more independently, scooting around on his belly like a tadpole, and even, perhaps, eating his first cracker. This month, find out how to:
Help your 7-month-old develop a strong mind and body
Combine eating and playing
Doctor's visits
Teething
At the end of month seven, you're baby will probably be getting his first tooth, and hitting other key milestones.

Sounds like fun – healthy play for minds and bodies
Your baby's language, recognition, and social skills are at an important stage of development.
Help ensure that his development stays on track by continuing to engage him in some of the following activities:

Getting her hands on "grown up" food
Once your baby can sit on her own in a high chair, mealtime becomes a party. She wants to grab the spoon, put it in her mouth, and bang it on the tray, creating her own special baby song.
Eating comes with other surprises as well.

Kids and germs – the more they play the more they share
As your baby plays more with other babies and children, he's more likely to pick up colds and viruses.
Symptoms worthy of a visit to your pediatrician: