Your baby's development
Two months old, and she's already telling you like it is.
All babies develop at different rates. You should not be concerned if your baby does something later or earlier than your friend's children. In general, by the end of your baby's second month, she will likely be able to do the following:

More than meets the eye
It may appear that your baby is passive – eating, sleeping, and waiting for you to do things for him.

The truth is, your baby is always reaching out

Establishing sleep patterns for your two-month-old
By the time your baby is 6-12 weeks old, he'll probably be sleeping for longer stretches of the night. If he's not, you may have to help him learn to fall back to sleep on his own.


Your baby's nutrition
Some fussiness is fine. Really distressed? Watch the dairy.
All babies are fussy and gassy at times, but if it seems your baby has more frequent fussiness and gas than you think is normal, she could have milk-protein sensitivity.* Reactions can include: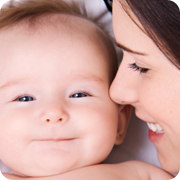 Getting Acquainted
This guide helps you understand him a little better, by explaining:

Your baby's learning style and how he takes in information
How your baby communicates
2-month-old sleep patterns
By month two, your baby will also get to know you better, smiling and actually recognizing the woman who's changed his diapers for the last 28 days.