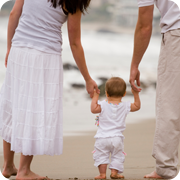 People to See, Places to Go
In the tenth month, your growing little one may be ready to become a regular baby-about-town, interacting with people and showing off his developmental milestones. Help him deal with his broadening world this month by:
Engaging your 10-month-old's mind
Baby's fears
Choosing the right baby shoes
Helping your baby deal with new fears
Simple milestones
By the end of this month, your baby might be walking, with a little help from you.
Puppet play, and other ways to engage you 10-month-old's mind
At this point, you can interact in an even more complex and creative way with your baby. Activities such as chatting with and singing to your baby are still effective.

You can also try these tips:

Baby's fears – when the vacuums become monsters
Aside from stranger fear and separation anxiety, your baby's further awareness of the bigger world may cause him to fear situations that never bothered him before. For instance, everyday things such as darkness, thunder, and the vacuum cleaner may become mini-monsters, and inspire sudden tears.
Make life more tolerable for your baby at this time:

Separation made simple – slow is the way to go
Continuing separation anxiety and fear of strangers are signs that your baby has a healthy relationship with you.
Fortunately, here are some ways you can cope with them:

Choosing the right footwear for your baby
By the tenth month, baby needs new shoes. Look for the following in a baby shoe:
Soft and flexible, allowing your baby to move his feet easily
Flat, non-skid soles so he doesn't slide and fall
Soft, porous tops that allow the foot to breathe
Baby shoes need not be expensive. Remember: Since your baby's feet will grow rapidly, the shoe size will have to keep pace. Check for sizing monthly.