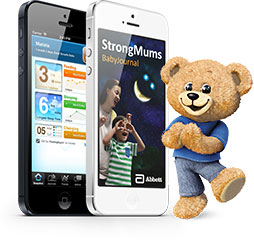 STRONG MUMS BABY JOURNAL APP

FEEDING TRENDS
See feeding duration graphs and important stats, such as average time between feedings, average amounts consumed, average duration, and total bottles. Keep track of feeding intolerance occurrences for consultation with a healthcare professional, if required.

FEEDING JOURNALS
Whether mums breastfeed or bottle feed, the Baby Journal app makes it easy to track the details. Plus it can connect mums to a nutrition advisor.

RECORD THE LENGTH OF EACH NAP
Predict nap time and duration, and see when your baby starts sleeping longer at night.

RECORD DIAPER DETAILS
Track baby's diapers for stool color and consistency. Plus, it can link mums to tips and advice on diapering.

TRACK KEY GROWTH INDICATORS
Keep track of important physical characteristics such as weight, length, and head circumference.