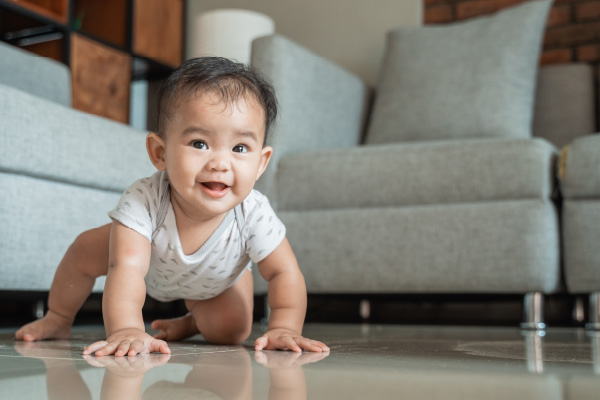 From the moment you know that you are pregnant, you feel a fierce urge to protect your little one. This instinct naturally intensifies after your baby is born and especially as he/she starts to become mobile. Your little one's improving mobility is an exciting indicator of developmental milestones ahead, like crawling and walking. This also means that childproofing your home is more so important to give your baby a safe place to play and explore and helps prevent injuries.
A brief overview of child development milestones at 7-9 months
Your baby is halfway to a year already and he/she is beginning to move around and explore his/her surroundings. This also indicates that you can look forward to several exciting developmental milestones like crawling and walking.1
For example, at around seven months old, your baby may show signs that he/she is getting ready to crawl, like rocking back and forth on his/her arms and knees. By placing toys just out of reach on the floor in front of your baby, you can encourage crawling development.1 At around nine months old, your little one might start to cruise, which involves holding on to objects and "walking". You can help your baby to further develop this skill by keeping toys on pieces of furniture around the living room which will motivate your baby to cruise.1
Encouraging your baby to move around and explore in this manner is important for a few reasons:
Your baby's curiosity and problem-solving skills – which are crucial for learning – are nurtured through exploration. For example, if your baby wants to get a toy on the other side of the coffee table, he/she needs to crawl or cruise around the table to get it. This is basic problem-solving in action.
Your baby's gross and fine motor skills are developed through movement. The former involves activity related to large muscles in areas like the arms, legs and trunk, while the latter involves smaller muscles like those in the fingers1. Both sets of motor skills are needed for your little one's holistic development. For example, fine motor skills are essential to hold a pencil or use tools like scissors. Meanwhile, gross motor skills are needed for balance, walking, and running.
Your little one's sense of independence is nurtured, and his/her senses are stimulated.
Childproofing tips: The basics of baby safety at home
Even as your baby becomes more active and hones his/her motor skills with your help, keeping him/her safe becomes increasingly important. A home that is not baby-proofed can present many dangers to a baby in this phase of mobility, exploration, and learning.
Here are some childproofing tips that can help provide security for your baby and ensure your peace of mind.
The balcony and windows
Many Singapore homes (especially high-rise apartments) have balconies. And of course, all homes will have windows. Both unprotected balconies and windows are serious safety hazards to curious babies.
As a first and important step, block your baby's access to all balconies. A balcony can be blocked with an adjustable safety gate and the door leading to it can be kept shut. You could consider installing an alarm on the door in case your little one figures out how to open it.
There should be no objects like furniture or pot plants near balconies or windows. Your active baby can easily crawl or climb up these and reach the top of the balcony or lean out of a window.
A balcony with either horizontal or vertical railings is dangerous. With the former, a mobile baby or toddler can easily use the railings as "steps" and the latter allows a small child to squeeze through the gaps. Windows left open can also present similar threats to your baby's safety. You can install grilles on both balconies and windows to prevent accidents.
The kitchen and bathroom
Full of potential hazards for curious babies, as a first step, you should try to completely prevent your baby from entering these spaces. This can be done by keeping the doors shut and/or installing safety gates. Besides this,
Never leave the stove unattended or place stools or other climbable objects near it. Consider using a child safety lock on the oven door when it is not in use.
Always place foods and liquids that require boiling on the back burner of your stove.
All saucepans should be placed with their handles turning inwards and away from the edge of the stove so that your child cannot grab onto them.
You or other caregivers should never carry your child while cooking – curious little hands can easily pull a knife out of your other hand or touch a hot pan.
Use a child safety lock on your fridge.
Detergents and other potentially hazardous substances in both bathrooms and the kitchen should be placed in a lockable cupboard, ideally one that is out of reach from your child.
Never leave your child unattended in the bathroom, even for a few minutes.
All other areas of your home
Cover all plug points with child-proof safety covers/sockets.
Install safety gates at the top and bottom of staircases.
Cover all sharp edges of furniture with foam or edge safety bumpers/protectors.
Firmly fasten all heavy furniture and appliances like bookshelves and televisions to the wall. This will prevent such objects from toppling over onto your little one, should your child pull them or hold onto them while cruising.
Get rid of any blinds or curtains with looped cords as these pose a serious strangulation hazard to small children.
As with anything related to child safety, you should read reviews and do your research before making a purchase. It's best to avoid buying second-hand products unless you can be certain that they have not been damaged in any way. Once you have all these items checked, you should be well on your way to successfully babyproofing your home.
SG.2022.22758.SMM.1 (v1.1)