PediaSure Triple Sure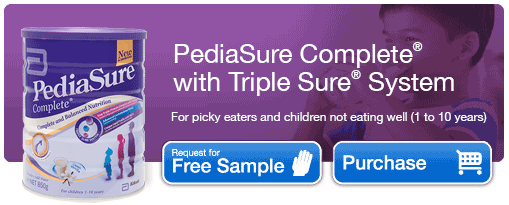 PediaSure Complete TV Commercial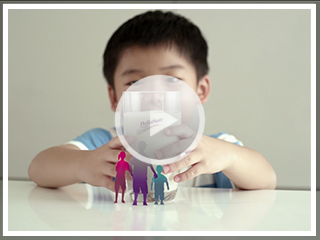 If You Consider Your Child A Picky Eater, You Are Not Alone.
Nearly 1 in 2 parents in Singapore say their child is a picky eater1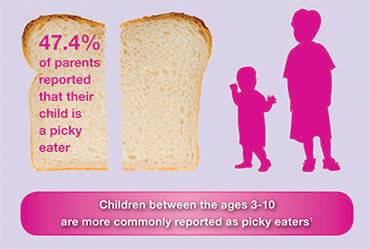 Picky Eating Can Be A Persistent Problem1.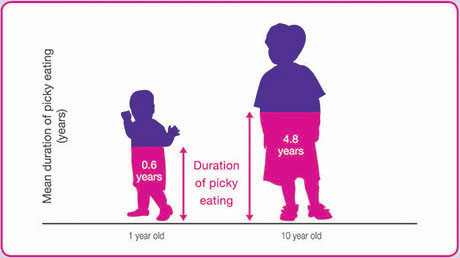 A child could be a picky eater for almost half his/her life1.
Picky eating was first noticed as early as 1 year old1.
Another study found that picky eating persisted in some children through 9 years of age3.

Picky Eaters Could Be Missing Out On Key Nutrients For Growth Due To Their Selective Food Intake7-10.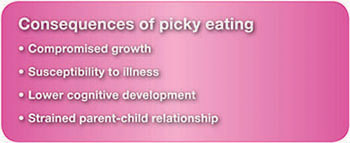 Picky Eating Behaviors Caused Parents Much Stress When Feeding Their Children And Had A Negative Impact On Family Relationships1.

Parents may resort to coping strategies and feeding pressure that may not yield positive results.

How Can You Know If Your Child Is At Risk?
Talk to your child's doctor about picky eating behaviours. This is especially important if your child:
Loses or fails to gain weight
Appears to be growing more slowly than normal
Seems tired or lacks energy
Has frequent illness or infections
Is Your Child A Picky Eater?
Take a look at the list below for some common types of picky eating behaviours. 2,4-7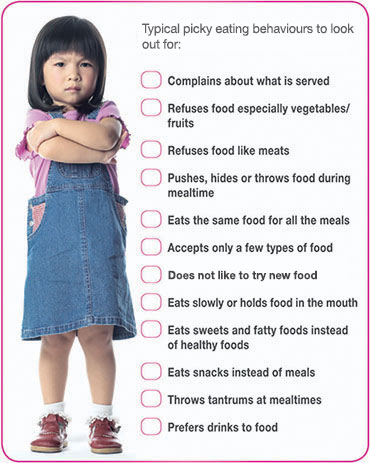 PediaSure, The Trusted Friend For Your Child's Complete Nutrition
Scientifically Formulated** to Support Catch-up Growth: Meets 100% or more of the U.S. DRIs for protein and 25 vitamins and minerals†
Supported by 19 clinical studies
With Pre and Probiotics††
Lactose Free and Gluten Free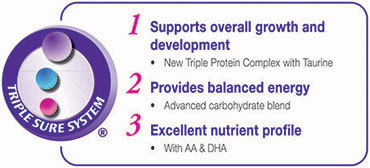 Available In:




††
Tips For Dealing With Picky Eating: 11
Avoid distractions while eating
Adopt a neutral attitude. Avoid excessive praise, criticism, stimulation and coercion.
Limit the duration of meals to 20 to 30 minutes.
Introduce novel food. Expose the child to new food one at a time. Try the new food up to 15 times before assuming it will not be taken.
Encourage independent feeding
Tolerate. Tolerate age-appropriate messiness when eating.
Talk to a health professional. Ask your doctor about what are the best options and if there are any underlying problems.

Log on to www.pickyeating.com.sg to get tips on teaching your child healthy eating habits.
PediaSure Complete : Beyond Picky Eating
PediaSure Complete® also helps meet the nutritional need of children in cases such as:

a. Supplementation during illness

b. When chewing and swallowing hurts

c. When minimizing lactose intake

PediaSure Complete® makes for a nutritious, convenient drink between meals.

Suggested Servings:
2 or more servings per day as recommended by your healthcare professional.
Related Products
PediaSure Complete Ready to Drink with Triple Sure® System
Complete and Balanced Nutrition for picky eaters and children not eating well
(1 to 10 years old).

"Available in Classic Vanilla and Premium Chocolate flavour"
References:
Daniel YT Goh and Anna Jacob. Perception of picky eating among children in Singapore and its impact on caregivers: a questionnaire survey. Asia Pacific Family Medicine 2012; 11:5.
Jacobi C, Agras WS, Bryson S, Hammer LD. Behavioural validation, precursors and concomitants of picky eating in childhood. J Am Acad Child Adolesc Psychiatry. 2003; 42:76-84.
Dahl M, Rydell AM, Sundelin C. Children with early refusal to eat: follow-up during primary school. Acta Paediatr. 1994; 83: 54-58.
Manikam R, Perman JA. Paediatric feeding disorders. J Clin Gastroenterol. 2000;30:34-46.
Carruth BR, Skinner J, Houck K, Moran J III, Coletta F, Ott D. The phenomenon of "Picky Eater": A behavioural marker in eating patterns of toddlers. J Am Coll Nutr. 1998;17:180-186.
Wright CM, Parkinson KN, Shipton D, Drewett RF. How do toddler eating problems relate to their eating behaviour, food preferences, and growth? Pediatrics. 2007;120:e1069-75.
Galloway AT, Fiorito L, Lee Y, Birch LL. Parental pressure, dietary patterns, and weight status among girls who are "picky eaters." J Am Diet Assoc. 2005;105:541-548.
Lindberg L, Ostberg M, Isacson IM, Dannaeus M. Feeding disorders related to nutrition. Acta Paediat. 2006;95:425-429.
Dubois L, Farmer A, Girard M, Peterson K, Tatone-Tokuda F. Problem eating behaviours related to social factors and body weight in preschool children: a longitudinal study. Int J Behav Nutr Phys Act. 2007;4:9.
Chatoor I, Surles J, Ganiban J, et al. Failure to thrive and cognitive development in toddlers with infantile anorexia nervosa. Pediatrics. 2004;113:e440-e447.
World renown paediatric gastroenterologist visits South Africa. S Afr J Clin Nutr. 2008;21:45
* Abbott Laboratories calculation based in part on data reported by Nielsen for the Infant Milk Category, for the 12-month period ending December 2012, for the Singapore modern grocery market. (Copyright 2013, The Nielsen Company).
** High in energy.
† In approximately 1000ml for children ages 1-3 years, 1050ml for children ages 4-8 years and 1500ml in children ages 9-13 years.
†† Available in powder range only.

PED661113